News
The Mayor of Villa María, Mr Accastello, welcomed PUA's Management team
The Management team of PUA, Mr. Gerardo Russo, President of the Community Centre, Mr. Silvia Longo, Director of Education, and Mr. Carlos Gazzara, Director of EDUVIM, were pleased to meet Mr Accastello in the town hall of Villa María on the 2nd of December 2011. The main purpose of the meeting was to discuss the different ways in which PUA can support and promote Argentinian authors. All parties were confident that VDM Publishing Group's presence in Argentina will definitely help in making Argentinian academic works known throughout the world, via our global distributors.
A press conference was also held at the Mariano Moreno Media Centre to present our collaboration with Eduvim and to officially launch our new office in Argentina. Mr. Martin Gill, President of the University of Villa Maria (UNVM), Mr. Gerardo Russo, President of the Cultural City Center, and Municipal authorities were present. Some authors were also invited to present their book to the media. Among them were: René Alberto Rodríguez, Patricia Rodrigo and Mónica Alejandra Scarafía.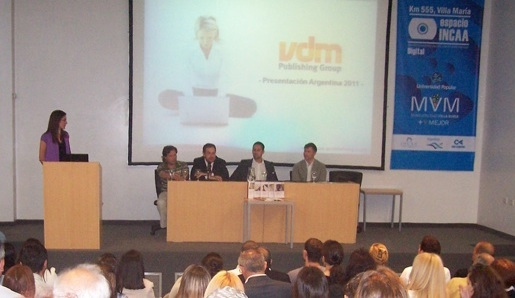 ---
Frankfurt Book Fair 2011
Our CEO, Mr Thorsten Ohm, and directors were present at the world's largest marketplace for content, which was held from 12 to 16 October. A fruitful meeting has been held during two days with Carlos Gaezza, Director of Villa María University Press (Eduvim), in view of extending our partnership on the Latin market. Katrin Martin and Benoit Novel, leaders of the cooperation between PUA and VDM Verlagsservicegesellschaft mbH, will soon meet other university representatives in Villa Maria, with the aim of enhancing our presence on the emerging South American market.


Susana Nigro, Benoit Novel, Katrin Martin, Carlos Gazerra